This is a group giveaway opportunity with a Christmas, crafting, and supporting small business theme!
Each blogger is offering her/his own giveaway worth $25 or more.
It will run from October 21, 2012 to November 4,
2012 and bloggers, as well as shop owners, are welcome to sign up to join in the celebration. Bloggers who are not crafters and shop owners who are not bloggers can still join the giveaway by pairing up together! If you need help finding a shop or blogger to link up with, we will do our best to help.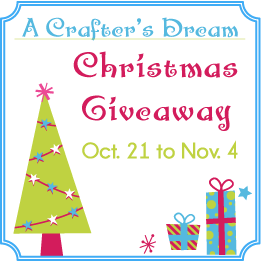 About the theme:
Christmas is just around the corner, and the time to start crafting our gifts for friends and family is now! Some of the blogs in the giveaway group will be giving away some awesome crafting supplies!
Sometimes we want to give a handmade gift, but just don't have the time or know-how to make them ourselves. This is a great opportunity to support small businesses and shops who offer handmade items! Some of the blogs in our giveaway group will be highlighting such small businesses and offering giveaway items for them, as well. Click
HERE
to find out more.